S/V S.N. Cetacea beating to windward in the Casco Bay Summer 2018
After we bought Cetacea, I (James) insisted that we didn't sail to Maine from the Chesapeake Bay in 2018 to buy a boat. But buy a boat we did and boy are we happy we did!
We sailed to Maine that summer to update the Northern Edition of Waterway Guide, the publication that we've been writing for the past six years now (2020).
While anchored in Block Island's Great Salt Pond, we found an ad for a 1984 Baba 30 lying on a mooring in Robinhood Cove up the Sasanoa River. The river is part of our Maine territory for the Guide so, though we'd planned to make for points farther east when we left P-town, we figured it couldn't hurt to go up and at least take a look.
After all, isn't flexibility one of the main reasons we've lived this way for twenty-one years?
To inspire us to actually put up the money to buy a new sailboat, the boat would have to meet a very rigid set of criteria that we weren't going to cave on. We already had a boat that was totally awesome, off the grid and best of all, paid off. That boat was S/V S.N. Nomad.
We both went through some separation-sadness after we sold S/V S.N. Nomad (12 days after buying Cetacea) but after getting to know S/V S.N. Cetacea, we believe her to be a significant upgrade and a true Sovereign Nation.
Giving up our perfectly functional and an already underway sailboat required the new boat to have some very specific improvements.
She had to be bigger down below.
S/V S.N. Nomad was 32 feet on deck but she was only 8 feet on the beam and had 6 ft head room throughout down below. Cetacea is only 30 feet on deck but she has a 10 foot beam, 6 ft 4 inches of head room down below, and a smaller cockpit, making her accommodations considerably larger and much more comfortable for two.
The new boat also had to meet or improve on the quality of the systems we had built on S/V S.N. Nomad. We both knew that this was a very tall order being as though we spent 9 years improving every single system aboard that boat and our shit was like clockwork!
…Cetacea stepped up in almost every way!
She has a good anchoring rig that is similar Nomad's and the off-grid solar electrical system showed no signs of fatigue even after the first two weeks of living aboard on a mooring.
S/V S.N. Cetacea also has a composting head and a full cockpit enclosure…two things we were planning as future improvements on Nomad.
On the minus side, Cetacea came with an inflatable RIB with a 3.5hp outboard motor. We hate this set up and always have but the rig was perfectly functional when we got it so it was something we could live with until a good row boat that will fit on the foredeck presents itself.
Another negative was the piece of shit Garmin 700 series chartplotter installed at the binnacle, but upgrading electronics is just a part of the ongoing boat improvement list on any modern sailing vessel.
Basically, this boat had enough meat on her bones (solar, watermaker, composting head, etc, etc) to be acceptable.
However, it was the obvious design improvements that ultimately sold us on the Baba 30 in general…meaning, it was the sailing rig that kicked our asses!
S/V S.N. Cetacea is a double ended cutter with a modified full keel and a cut-away forefoot. Her underbody shape is similar enough to Nomad's to be familiar while adding a great deal of stability with the more rounded belly and stern. The sailing rig, though…wow. We have more sail area with half again more sail options, and the heavy-wind options are staunch performers.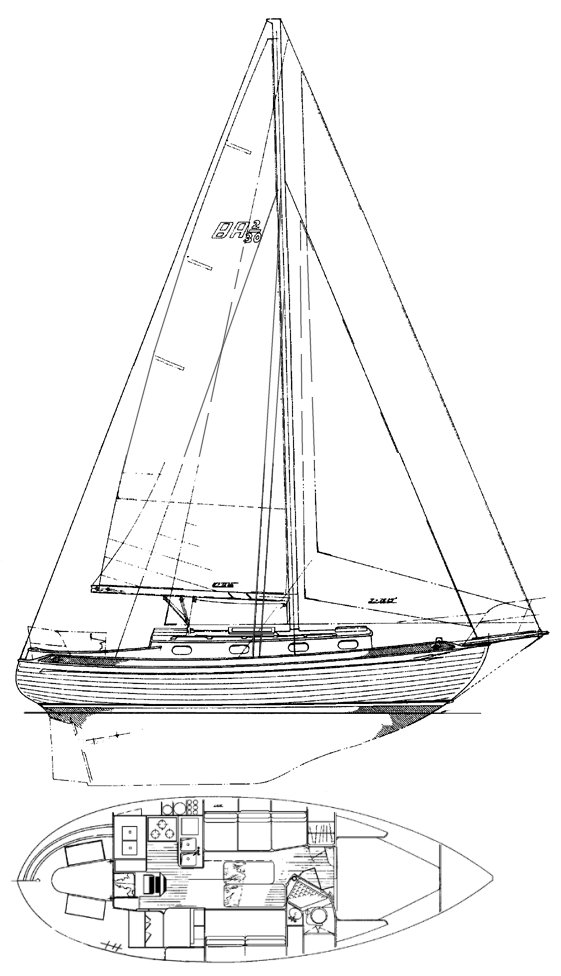 Initially we thought there wouldn't be that much difference between the two boats in the overall sailing experience… boy were we wrong!
The very first trip took us down the Sheepscot River to Seguin Island, then in a weaving beat through some of the Calendar Islands, and finally to the anchorage off the Eastern Promenade in Portland. Other than a main that bagged like a deflated balloon and had to be reefed at all times, we were stunned by the strength and stability of the ride. Her speed died off faster than Nomad's when the wind failed, but a full main would fix that. On a beat, though, spanking along? She moved comfortably and confidently through the water, surging along like beating wasn't the most painful thing to do with a nice sailing day!
Sailing in the protected waters of the Casco Bay that first couple of months was great, but we got to know her more as a liveaboard and as a collection of internal systems that winter. Portland, Maine, isn't really the best place for sailing all winter, and we only went out a handful of times once the temps dropped and ice became common. We let ourselves adapt to Cetacea's systems rather than jump right in and try to Nomad-ify them. It was frustrating, but now I'm (Dena is) glad we took a more measured approach to making changes.
The sailing we managed to do didn't hint at how dramatically improved our sailing experience would be. It wasn't until we got her in the Atlantic Ocean that following spring that we found out how truly incredible this sailing vessel is.
We discovered what people have been saying about this design for four decades: she is an offshore sailing vessel through and through!
Our shake-down cruise took place between Portland, Maine, and Three Mile Harbor, New York, in April of 2019 and S/V S.N Cetacea proved herself a truly brilliant sailing design.
We did update the anchoring and electronic navigation systems over the winter, and we put that boat through her paces in the only way that is proper. Springtime in the Atlantic Northeast!
Who knew that the double-reefed main would form a perfect triangle with the staysail (yankee furled)? The balance of this boat under reduced sail is better than any boat I've ever sailed on. She loves a reach in a strong blow, and she coddles us in minor wave action. The big stuff? Well, she's going to move around some, but she provides a sense of safety and strength that S/V S.N. Nomad didn't.
So good news. We're glad to be sailing Cetacea, our plucky and formidable Sovereign Nation.