S/V S.N. Cetacea is a 1984 Baba 30 cutter rigged sailing vessel.
Designed by Robert Perry specifically for blue water cruising she's a comfortable home for the likes of us!
As of 2021 we've put a few thousand nautical miles under her keel and made some fantastic upgrades. Check out the video below for some contrast from when we first got her.
We've installed some great new electronics, and added a 4G radar. We completely rebuilt the solar and the electrical systems, replaced the mainsail, recovered the main and both roller-furling headsails, rebuilt the caprails forward to aft, repainted the deck, rebuilt the forward hatch, and completely re-envisioned and re-painted the entire color scheme from stem-to-stern.
Of course Dena had to rebuild the life-lines with half-inch dyneema!
We added a wood burning stove and a cat, Beluga Greyfinger.
Our last boat was 32 feet on deck but she was only 8 feet on the beam and had 6 ft head room throughout down below. Cetacea is only 30 feet on deck but she has a 10 foot beam, 6 ft 4 inches of head room down below, and a smaller cockpit, making her accommodations considerably larger and much more comfortable for two.
We completely rebuilt all the pluming in the galley and then tore out the old head replacing it with a brand new one, one that actually accommodates a human ass.
We got rid of that horrible cockpit enclosure (above) and are having a solar-tower built over the winter of '21/22.
We sailed a couple of thousand miles on her from where we bought her in Robinhood, Maine all the way down to Solomons, Maryland and back up to the Casco Bay doing both the inside and the outside passages during the pandemic and it was a totally amazing adventure. The boat proved herself sea worthy inside and out.
It was the obvious design improvements over our last boat that sold us on the Baba 30 but it was the sailing rig that really kicked our asses!
S/V S.N. Cetacea is a double ended, Nordic-Stern, cutter rig with a modified full keel and a cut-away forefoot. Her under-body shape is similar enough to Nomad's to be familiar while adding a great deal of stability in following seas with the more rounded belly and stern. The sailing rig, though…wow! We have more sail area with half again more sail options, and the heavy-wind options are staunch performers.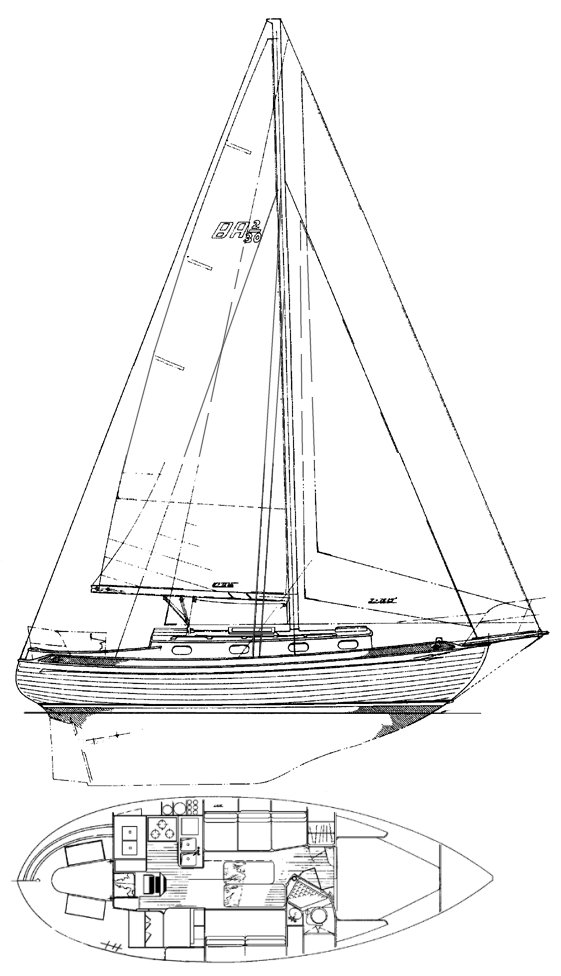 Initially we thought there wouldn't be that much difference between this boat and the last one in the overall sailing experience… boy were we wrong!
She's stable in a freshening breeze and reefs to any winds.
Sailing in the protected waters of the Casco Bay that first couple of months was great, but we got to know her more as a liveaboard and as a collection of internal systems that first winter. Portland, Maine, isn't really the best place for sailing all winter, and we only went out a handful of times once the temps dropped and ice and snow became common. We let ourselves adapt to Cetacea's systems rather than jump right in and try to Nomad-ify them right out of the gate. It was frustrating, but now I'm (Dena is) glad we took a more measured approach to making changes.
The sailing we managed to do didn't hint at how dramatically improved our sailing experience would be. It wasn't until we got her in the Atlantic Ocean that following spring that we found out how truly incredible this sailing vessel is.
We discovered what people have been saying about this design for four decades: she is an offshore sailing vessel through and through!
Our shake-down cruise took place between Portland, Maine, and Three Mile Harbor, New York, in April of 2019 and S/V S.N Cetacea proved herself a truly brilliant sailing design.
We also updated the anchoring and electronic navigation systems over the winter of '18, and we put that boat through her paces in the only way that is proper. Springtime in the North Atlantic Ocean!
Who knew that the double-reefed main would form a perfect triangle with the staysail and the yankee furled? It's a perfectly balanced reef! This boat under reduced sail is better than any other boat we've sailed together offshore. She loves a reach in a strong blow, and she coddles us in minor wave action. The big stuff? Well, she's going to move around some, but she provides a sense of safety and strength that S/V S.N. Nomad just couldn't.
So good news. We're glad to be sailing Cetacea, our plucky and formidable Sovereign Nation and I feel like we've settled right into our new home.
So, welcome aboard!