S/V SN-E Cetacea is a 1984 Baba 30 cutter rigged electric sailboat. She has a double-ended Nordic stern, a modified full keel, and a cut-away forefoot. Designed by Robert Perry specifically for blue water cruising, she's a comfortable home for the likes of us. Cetacea is only 30′ on deck but she has a 10′ 6″ beam, 6'4″ of headroom below decks, and a smaller cockpit, making her accommodations large and comfortable enough for two humans and a rather all encompassing cat. (Our last boat was 32′ on deck but only 8′ on the beam with 6′ headroom down below. Quite cramped in comparison.)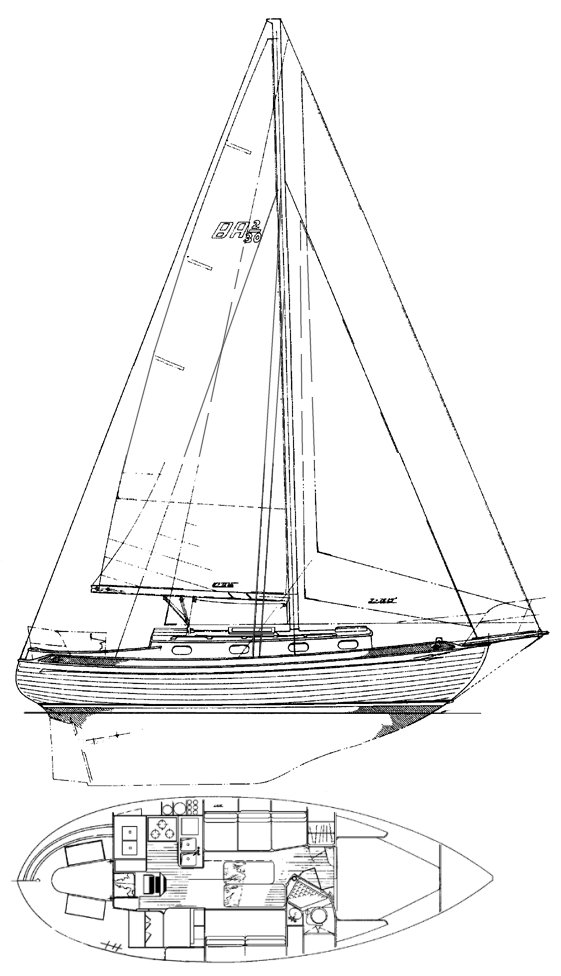 Cetacea's under-body shape creates a great deal of stability in following seas with the more rounded belly and stern.
Who knew that the double-reefed main would form a perfect triangle with the staysail flying and the yankee furled? It's a perfectly balanced reef! This boat under reduced sail is better than any other boat we've sailed together offshore. She loves a reach in a strong blow, and she coddles us in minor wave action. The big stuff? Well, she's going to move around some, but she provides a sense of safety and strength that S/V S.N. Nomad just couldn't.
In April 2023, we passed the 5000 nautical mile mark aboard Cetacea and we have many thousand more miles of travel planned.
Systems
Sailing Rig and Gear
When we bought Cetacea, she was wearing her original clothing and that mainsail was a stretched out mess. We replaced it with a Bacon sail and deemed the yankee and staysail good enough to simply recover in black to match our new color scheme. We also have an asymmetrical spinnaker that we use with an ATN.
We worked on the mast in 2022 because whoever added roller furling for the yankee did it wrong. The foils came apart, a problem we dealt with for months before finding someone willing to pull the mast for us and let us work on it. We fixed the furler foils, added a turning block to give the halyard the proper angle, ran the electricty for an OGM masthead tri-color light w/auto-anchor ran a new VHF cable and ran the yankee halyard inside the mast as it was meant to be.
Auxiliary Propulsion
Electrical and Electronics
Plumbing and Watermaker
Tools
Comfort
History
She's come a long way since we bought her in 2018! Check out the video below for some contrast.
Sailing in the protected waters of the Casco Bay that first couple of months was great, but we got to know her more as a liveaboard and as a collection of internal systems that first winter. Portland, Maine, isn't really the best place for sailing all winter, and we only went out a handful of times once the temps dropped and ice and snow became common. We let ourselves adapt to Cetacea's systems rather than jump right in and try to Nomad-ify them right out of the gate. It was frustrating, but now I'm (Dena is) glad we took a more measured approach to making changes.
The sailing we managed to do didn't hint at how dramatically improved our sailing experience would be. It wasn't until we got her in the Atlantic Ocean that following spring that we found out how truly incredible this sailing vessel is.
We sailed a couple of thousand miles on her from where we bought her in Robinhood, Maine all the way down to Solomons, Maryland and back up to the Casco Bay doing both the inside and the outside passages during the pandemic and it was a totally amazing adventure. The boat proved herself sea worthy inside and out, but we had a lot more customizing to do.
Over the years, we installed some great new electronics and added a 4G radar. We rebuilt the electrical systems, replaced the mainsail, recovered the main and both roller-furling headsails, rebuilt the caprails forward to aft, repainted the deck, rebuilt the forward hatch, and completely re-envisioned and re-painted the entire color scheme from stem-to-stern.
We got rid of that horrible cockpit enclosure (above) in 2022 and had a Primary Energies Tower built over the winter of '21/22.
Of course Dena had to rebuild the life-lines with 3/8″ dyneema!
We added a wood burning stove and a cat, Beluga Greyfinger.
We rebuilt the plumbing in the galley and then tore out the old head, replacing it with a brand new one…one that actually accommodates a human ass. We'll spare you the pictures.
Welcome aboard!