1999 to 2004
On September 9th 1999, 9/9/99 Dena Hankins bought her first sailboat.
She was a 1972 William Garden Sea Wolf Ketch.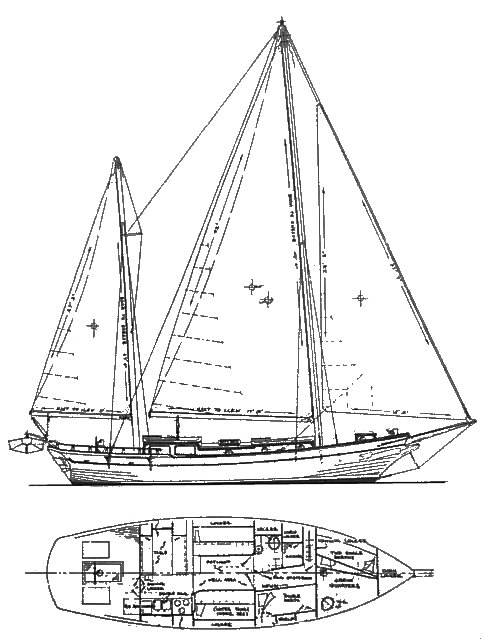 Her hull had been laid in 1969 at the Formosa Boat Yard in Taiwan under the supervision on Bill Hardin using the tried and true combination of mahogany planks on white oak beams. The plywood decks and trunkhouse would ultimately prove to be weaknesses in the design but the long-keel hull was a masterpiece. Her spars were the original box-cut Sitka Spruce with a solid oak bowsprit above a clipper bow.
She was 42 feet on deck with a spared length of 49 feet 11 inches, and she weighed 28,000 pounds empty.
She was shipped over to Port Townsend, Washington, USA where she was finished out at the Port Townsend wooden boat school in 1972 and later christened S/V Star Rover.
She had four owners prior to us. Two good ones, one okay and one total dickhead. We rescued her from the latter and none-too-soon.
We spent the first two years living aboard S/V Sovereign Nation in the Puget Sound.
Although we changed her name to Sovereign Nation and flagged her out of Seattle, we never actually lived aboard her there in the water.
We bought her in Port Hadlock and sailed her from there to Bremerton, where we lived and seriously partied aboard for a little under a month before starting the real adventure.
For our anniversary in October 1999, we sailed S/V Sovereign Nation from Bremerton to Oak Harbor, surviving an incredible three day storm with winds reaching a whopping 60 knots and seas reaching 15 ft inside the protected waters of the Saratoga Passage. We were on our way to the San Juan Islands but didn't quite make it that year.
After our amazing adventure, we spent two months hauled out and living aboard in the Canal Boatyard in Ballard during the rainy/snowy November and December of 1999, rebuilding the decks. That was when we learned the proper way to pronounce the phrase "living the fucking dream!"
We did shag a mooring in Lake Washington before we hauled out, which meant we got to pass through all the bridges and stop traffic!
After that we were pretty much at-large, commuting by ferry to and from our wage slavery in Seattle.
We were sneakaboards at the Bainbridge Island Marina from January to May 2000 while we finished up the detail work from the deck rebuild.
The dockmaster there got all up in our beeswax so we moved across the harbor to Winslow Wharf, where we stayed until the end of July.
We quit our wage-slave gigs in Seattle and set sail for the San Juan Islands once again in 2000. We made it that time and gunkholed those and the Canadian Gulf Islands for the rest of that summer, ultimately settling in Blaine, Washington, on the US/Canadian border for the winter.
It was an incredible winter aboard!
We learned how to live our dreams while making an honest living and keeping up with the neverending adventure of boat work.
We learned that living aboard really was the way we wanted to live our lives together and we proved it every step of the way.
We both got local jobs and ended up fitting in quite nicely. At the local weekly newspaper, Dena did classified ad sales and design full time and I provided photography part-time. My full time job was on-staff woodworker for a big hotel across the bay, which seemed about perfect.
I got to row across the bay every weekday morning in our beautiful lapstrake dory. It was a truly inspiring time in both of our lives.
By August of 2001 we had set off again, this time going offshore to the San Fransisco Bay via Port Angeles, Neah Bay, Newport, Port Orford, and Humboldt Bay.
An adventure that would take an average sailing couple 9-14 days (860 nautical miles) took us almost six months, setting the standard for many adventures to come.
We sailed into Emeryville Marina after a hair-raising, 55-hour leap from Humboldt Bay. We learned some very important lessons during that oceanic spanking. Lessons that almost put us off sailing altogether.
We learned that sailing a giant wooden boat in the ocean took more hands than the two of us actually had and that it wasn't much fun almost dying every single time we went out for a sail!
We learned that having a smaller boat meant that we could go anywhere we wanted to go without raising any eyebrows and that was actually a good thing.
So after settling S/V Sovereign Nation in Marina Bay, we built a website and sold her to a group of entrepreneurs from the Czech Republic. With a crew of five (a far more reasonable proposition), they sailed her from Richmond, California, to Italy via the Panama Canal where she still sails today.