In the spring of 2003, we moved aboard the Sailing Vessel Sapien (thereafter to be known as S/V S.N. Sapien) as her third and, we thought at the time, her last crew. The second owner is in the picture below – my (Dena's) dad, Dean Hankins. Why yes, he is the Dean Hankins who was in the amazing band Dura Mater!
S/V S.N. Sapien was a 1989 William Garden designed Gulf 32 pilothouse sloop rigged sailboat. Originally designed as a cutter rig S/V S.N. Sapien was modified by the first owner with a shortened mainsail and a 130% Genoa headsail. This modification unbalanced the vessel but with the addition of windvane self steering the lack of balance didn't matter that much.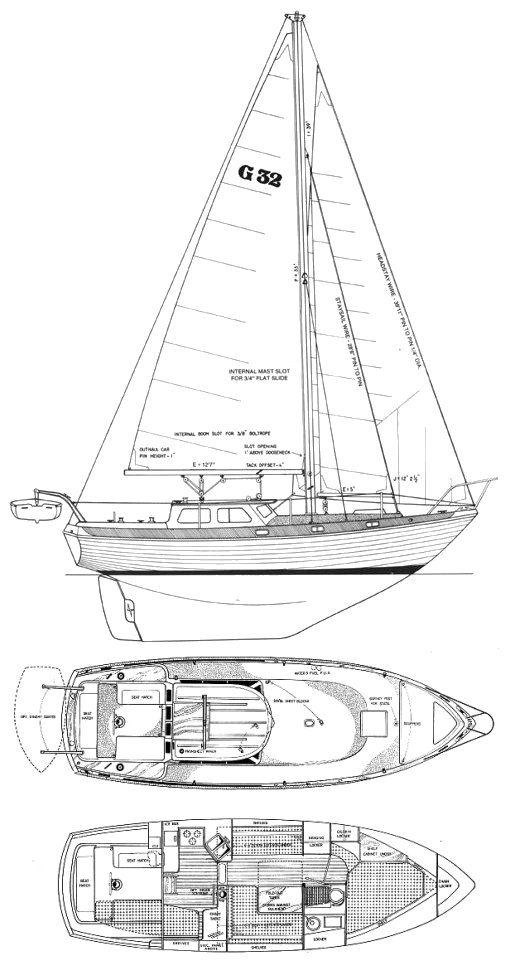 After the pomp and circumstance involved in everything S/V S.N. Sovereign Nation, a 32 foot sloop with a roller furled genoa felt nimble and fun. Just as important, we discovered over time that this ease of use didn't make her a bad off-shore boat. Quite the contrary.
In April of 2005, we got serious about stretching her legs and sailed S/V S.N. Sapien up the California Delta. Going up the Sacramento River to Decker Island was one of the most perfect gunkholing experiences we'd had to date and, best of all, we only ran amuck three times during the entire adventure.
Back down the Sacramento and up the San Juaquin River
We then retreated back downriver to a summer full of cruising from marina to marina in the San Francisco Bay.
In September of that same year, 2005, we sailed from Emeryville to Monterey and back, stopping along the way at the ports of Capitola, Santa Crus and Half Moon Bay before finally ending that leg of our adventure back in the Oakland Estuary.
We logged over 1000 nautical miles in the Bay Area in '05 and I'd say we "discovered" the San Francisco Bay.
We stayed in the Oakland Inner Harbor at the City of Oakland's Estuary Fleet Dock for the next year readying S/V Sapien for yet another great adventure.
In 2006 the crew of S/V Sapien sailed across the Pacific Ocean on a 2040 nautical mile journey to the little town of Hilo, on the Big Island of Hawai'i in what is literally the middle of aforementioned Ocean. S/V S.N. Sapien kept her crew in safe, sound and (best of all!) dry conditions throughout our incredible adventure.
The trip started in the cold…
And we both did our parts.
It was so beautiful once the sun came out…
The heavy winds and waves abated.
And the cold didn't last!
Along the way, we celebrated our 10th Anniversary with a cake that wasn't too hard to make, but came out a little funny from the boat's motion.
We lived on the hook in Radio Bay for four months while we explored the Big Island…
Then looped south around the island to Kailua-Kona for a short spell.
The Island of Oahu promised both jobs and dockage/moorage availability not measured in days.
S/V S.N. Sapien fit in on the dock at the Waikiki Yacht Club better than we did.
In the fall of 2007, we decided to sell S/V S.N. Sapien. A heavy debt load, a severe dislike of living in Hawai'i, and seriously itchy feet combined to get us back to the mainland for what ended up being about nine months. In that time, we gestated our first trip to India. When we ended up back in the US, we immediately jumped aboard S/V S.N. Nomad and started sailing again.
Rig and Steering
Our mainsail was a 6.0 ounce dacron North Sail with lazy jacks (shudder) on a Le'Fill Boom with a rigid vang and a Dutchman Boom Brake. Of all the great things about Sapien, I miss the vang the most. The Gulf 32 is widely known as "the sailor's motorsailer", which is still more creepy than compelling to me (Dena), but oh well.
Sapien's headsail was a 130% genoa, also a North Sail made from 6.0 ounce dacron.
All lines ran aft, which is why we are staunch supporters of hauling the main from the mast. Jeez, what a hassle it was!
We especially loved the Anderson winches. Great tools.
Sapien's pilothouse provided fantastic around-the-boat perspective, but we never actually docked the boat from there.
The inside wheel is the perfect size for the pilothouse, small but strong! Helming the boat from there in bad weather felt decadent, but damn, was it a nice change from the hand-steering no matter what on S/V Sovereign Nation.
Cockpit helm had a big wheel, easy to control in heavy weather, and our Monitor lines were tucked nicely off to port.
And oh, that Monitor. Dad (Dean) bought it new from Scanmar, since they were right up the road. He never got it installed, but we finally did and, whooooo, baby! Oh so much better than four hours on, four hours off, in the dark, in the fog, in the rain, snow, whatever.
Although neither of us has ever missed a watch at the wheel, the Monitor quickly became our favorite crew member. If you've heard us go on and on about it, this is where it all started.
We had nine days of heavy weather on our way over from SF to Hawai'i. With two reefs in the main and the headsail furled, it was tea-time in the pilothouse while the Monitor handled forty knots of wind and fifteen foot following seas for three of those days. Thanks, Monty!
Interior
Electrical System
The electrical system on S/V S.N. Sapien was simple and completely functional, two things we deeply appreciated after rewiring S/V Sovereign Nation.
Four group 24, deep-cycle gel cell batteries in two banks ran everything. We also had a spare battery in an isolated section of the engine compartment to be used as a spare or as the battery for the electric motor on our Zodiac.
We've been saying since Sapien's day that the only way for alternative energies to work is, yep, lower consumption. The batteries charged from the alternator or one 20 watt Siemens mono-crystalline solar panel. It extended our battery time but couldn't keep up…not surprising.
From SF to Hawai'i, we ran the engine only 20 hours for the entire 20-day trip. Having an icebox rather than a refrigerator lowers the power needs dramatically, but we still have lights, computer, all the navigation stuff, etc.
Galley
Plumbing
The plumbing on this vessel was as ship-shape as I've ever seen.
We had 60 gallons of fresh water in a single tank. After the 20 day sail to the Big Island, we still had over a half tank of water left. We did shower and clean dishes with raw water with a fresh rinse. It worked famously!
There was also a raw water wash down pump, but we had planned to use that seacock for a watermaker. Now that we've sailed muddier waters, I think the answer is both/and.
The head was plumbed to be directed overboard instead of into the holding tanks while offshore. Seems like a good idea, but with a three-way valve right next to the toilet, two siphon breaking vented loops, and double the (expensive) hose, I think there are better ways. A second three-way valve under the v-berth allowed for pumping the holding tank overboard using a hand pump.
Computer Navigation System
Don't laugh! Our Dell Inspiron 5100 ran XP on a Pentium 4, 2.66GHz processor with a gig of RAM and drove the Nobeltec Navigation suite, which was all beefed up with cool charts of everything on the left coast from Alaska to Mexico and of course all of the Hawaiian Islands.
Here's what we said back in the day, and yes. You can laugh. "The Nobeltec takes a GPS signal through the multiplexer from our Garmin 128 and an icon of S/V Sapien appears on the screen at our present position. It is so accurate that we navigated at night up inside the California Delta, although the people that make Nobeltec would never tell you to do a damn fool thing like that, I mean without other forms of navigational aids. I think the bottom line is that we used this system to get from San Fransisco to Decker Island, back to San Fransisco, over to Oakland, all over the bay hundreds of times, down to Monterey and back, to Hilo, HI, then to Kailua- Kona and finally to Oahu where she lies today. We've never been lost with this set up and I guess that's really the bottom line here."