Phyllis of Morgan's Cloud wrote a blog post called "A Reluctant Voyager?"  Please go read it – I'm going to paste my comment below, because I said some things I've never addressed on this blog.
Phyllis addresses the elements of the sailing lifestyle that she finds difficult.  I was struck by her admission that "Giving up everything familiar and taking on this challenging lifestyle had major ramifications: it affected my self-esteem, my sense of myself as an independent and competent person, and produced feelings of insecurity…"
I didn't really address that part directly in my comment, but I will say more about it below.
I'd be interested in hearing about how these anxieties play out in real life. John addresses it to some degree in the first comment by saying that Phyllis handles herself and the boat when the chips are down, but how does it feel? I'm thinking about the articles I've enjoyed so much, written by John, about taming the wimp within. If John has anxieties and deals with them to perform the necessaries and Phyllis has anxieties and deals with them to perform the necessaries…how are those two situations different? Do they differ only internally or is it behavioral as well? I guess refusing to dock is an example of these anxieties playing out differently.

In general, though, I think a lot of wives who take the first mate role are undervaluing their contributions. There's a t-shirt a friend had. It said, "Ginger Rogers did everything Fred Astaire did, but backwards and in heels!" I know that you're unlikely to wear heels on board, but how about cooking underway in a stuffy cabin while the captain enjoys the fresh air?

My husband started sailing in his teens and, in his early twenties, was first mate on a 63′ schooner that sailed from Galveston, TX, through the Caribbean and down to Rio de Janiero and back. I met him ten years later, when I was 20, and revived his interest in sailing by being enthusiastic about the idea.

Perhaps that dynamic made our experience very different from that of other couples – I was a driving force getting us onto the water, though I knew nothing in the beginning and he was an experienced sailor. Whatever the reason, I was committed to being able to single-hand if necessary, since there were so many terrible situations in which that might be necessary.

Going into my sailing life figuring that I had to be so competent…well, it kept me from refusing any duties. It took me – honest to goodness – 10 years before I was comfortable backing into a slip. It's also a large part of the reason why we have been sizing down on our boats since the first one. The first boat was a 50′ wooden ketch and I realized over the years it took to sail from Seattle north and then down to San Francisco that I would never be perfectly comfortable single-handing that boat. The Gulf 32 we took to Hawaii was a wonderful, decadent experience in comparison.

When I make comments like the one on the Model T conversation, I'm not saying go small just because I heard that (from that couple…you know…last name starts with P…grin). It is mostly because there are limits to what this short-handed crew can wrestle.

All of that leads me to the main thought I had when I started this (very long) comment. My major piece of advice is that adult women with no sailing experience should start in the same way that boys and young men usually start. We shouldn't jump on the 28 ton ketch and try to learn berthing right away. We should get aboard a Laser or an Ideal 18 or a Sonar 23. A person learns so much by tossing those boats around a protected harbor or relatively calm bay.

The first smaller, easy boat I got aboard was a Folkboat. That gorgeous design taught me more than I knew I needed to learn. I learned what it felt like to tack without losing way. I sailed into the dock. I heaved to so I could eat my sandwich in peace.

So many maneuvers that were highly nerve-wracking on my big boat felt simple and obvious on the smaller boat. It changed the way I approached the whole experience. And this was 5 or 6 years into living aboard and making ocean passages.

My insistence on being able to captain my vessel has resulted in some "two captain" problems, but not many and never anything possibly tragic. I'm taking a USCG Captain's course right now so that I can supplement my book-learning and sailing experience, but also so that I have an official piece of paper that recognizes my accomplishments. (In the end, it's to make me more marketable when we stop in port.)

To end on a weak note – I can't help with the limiting aspects. I'm a bit of a hermit, naturally. I join gyms but never take the classes. I keep in touch with family by email, but they know to expect gaps when I'm underway.

It feels to me that losing James would leave me devastated and alone on this boat, but that I would continue to live aboard and sail. If there were too many memories to keep this boat, I would probably size down again. Perhaps I would look for a great deal on a Fisher 25 or a Pacific Seacraft Dana. Shrug. But I wouldn't leave the water.
Well.  To begin with, I know that the post title is a bit inflammatory.  Being queer and knowing sailors in same-sex relationships, I recognize that this dynamic isn't solely about gender.  It's also about experience and personality style.  My problem with the sailing world is that it usually does break down along gender lines.  As people who know me would expect, I rarely settle for the role I'm offered.
When we started looking at boats, it never occurred to me that James would be the captain and I would be first mate and cook.  That division of labor was impossible to countenance.  For simple independence reasons, for gender politics reason, for self-esteem reasons – I couldn't settle for being an order-follower.
At the same time, we jumped aboard and found ourselves sorely tested.  James' sailing chops were rusty and he had to polish up his skills fast.  I was operating from what I had read – Chapman's cover to cover, The Complete Liveaboard Book, our gear manuals, and 48° North (the sailing magazine for the Puget Sound), plus odds and ends.  I'm a good reader, but there's a lot to remember when the everything in Chapman's is new.
But ah, what a beautiful boat.
Also, I broke my arm the day we bought the boat.  After work, I rode my bike to the ferry terminal, rode the ferry from Seattle to Bainbridge Island, boarded a bus that took me to Port Hadlock, then rode my bike to the marina.  To get aboard my brand-new (to me) boat, I lifted my bike to shoulder level and put my foot on the dock step.  Except it wasn't a real dock step.  It was a Rubbermaid pantry step that had been in the sun too long.  One little plastic leg flexed enough to slip off the dock and my bike and I landed on my elbow.
Then we went sailing.  I was in denial, completely.  We spent several days exploring by sail – Indian Island, Port Townsend Bay, Admiralty Bay, Kingston, down the Puget Sound and under Bainbridge Island, reaching Bremerton and crossing under the Warren Avenue and Manette Bridges to reach the Port Washington Marina.
I handled lines while berthing, cranked a winch for the first time, lowered (but did not raise) sail.  I took the wheel and said, "Helm's a-lee!" for the first time, without ever having handled a tiller and so not understanding why I would say lee instead of weather.
I was barely hanging on the whole time.
We pulled into Port Washington Marina with a 4 knot current.  We turned sideways to the current and a bunch of people ran to help.  They were used to calling ahead so that there would be plenty of people fending boats off one another as they came in.  We hadn't warned them we were coming, but they got busy as soon as we turned in.
Without belaboring the point, we got into our slip after a hair-raising quarter hour of hard work.  We were at our new home.
Almost immediately, James left on a paid photo trip with a couple of fly fishers.  I was alone on a boat, riding buses to ferries to buses to work because my arm hurt too badly to ride my bike.  And then the boat started to sink.
After a two-hour commute to work, ten hours of work, and a two-hour commute home, I arrived to the horrifying sight of floating floorboards.  To be perfectly honest, I have no memory of dealing with that.  Whether it's because I've been in far more dangerous and uncomfortable positions since, or because I blocked it from shock, it's a blank.  James tells me that I told him that I bailed that shit with a bucket, which makes complete sense.  I wouldn't have known what else to do at that point.
So picture me, alone on a huge wooden boat that seems to be sinking, without the plumbing or electrical knowledge to diagnose (let alone fix) a bilge pump problem.  Even less equipped to find and tighten the packing nut onto a packing gland that had been installed incorrectly by the previous owner.
And this is Seattle in September.  I have no doubt (though also no memory) that it was raining while I hauled buckets of bilge water from the lowest point of the boat to the cockpit and overboard.  With a broken arm.
James hailed me as courageous, as a super-hero even.  I love that shit, so I wasn't going to argue.  At the same time, I didn't feel like a hero that night, alone aboard my sinking, soaking wet wooden boat that smelled of mold and diesel.  It affected my self-esteem and self-confidence.  It affected my sense of myself, as Phyllis said so eloquently, as an independent and competent person.
Absolutely unacceptable.
I was 23 year old, still in the concentrated learning phase of life.  I had graduated from college the previous year with a bachelor's in English and then taken a new job that opened up another world of learning – selling sex toys.  I've never been particularly humble – I fight my natural tendency toward egotism mixed with insecurity – but I was at the right age to find my ignorance challenging rather than crushing.  Perhaps that's the greatest difference between me and so many of the "First Mate" wives on the water – maybe I got in under the wire age-wise.  I've read about people forced to change careers in their thirties or later and it doesn't seem to go all that well after some point.  I can't speak for anyone but myself, really.
I got dirty.  System by system, I researched and learned.  We hauled the boat and replaced the deck – though most of that work was done by James and our shipwrong since I was working more than full time.
We rewired the electricity and installed new panels, meaning that I held crimpers for the first time in my life.  I learned what a butt connector was and how to use heat-shrink.  I took a heat-gun and scraper to old varnish for the first time and then learned how to thin the new varnish to brush on better.
Installation, maintenance, and repair became things I understood and could undertake.
As I said in the comment I quote above, it was years later that I got fully comfortable with boat handling.  We sold the big ol' boat, Sovereign Nation, and moved aboard my dad's choice of sailboat, Sapien.
Reducing length by 11′ on deck and almost that at the waterline changed a lot.  I felt gloriously, happily in control while sailing that boat.  But I still didn't like close-quarters maneuvering and had to fight myself to avoid asking James to take us in and out of the slip.
When James started working for the City of Oakland at their Jack London Aquatic Center, I suddenly had access to a fleet of Folkboats, a Catalina 22, Tanzer 7.5, Ericson 27, and C&C 31.  Sailing Folkboats taught me about the joy of jumping aboard for a quick sail.  The irresistible pull of taking a boat out when there's no anxiety involved.  The excitement of taking a responsive vessel to her performance edges and, sometimes, choosing to sail easily instead.  The visceral feedback of a hand on a tiller.
I raced for the first time aboard the C&C 31.  Though we came in last in every race, we got 2nd place overall because the boat went out for every one of them.  Funny, I know, but also good for my sense of attentiveness and ability to take orders.  Racing failed to win me over, but I'm glad I did it.
When I got aboard those smaller boats, I was an off-shore experienced sailor with years and miles under my keels.  I knew the names of the parts and I was not afraid to tear into something to fix it.  But small-boat sailing is what made me the confident sailor I am today.
Women who agree to sail with their husbands and learn to sail on a large boat – it seems to me that they are disadvantaged by the steepness of the learning curve.  Slow down on that curve and, I believe, competence and confidence will change completely.
Two wrap up this post, I want to tell you an alternative history.  Rather than searching out and buying a very large boat and boarding her without any experience, I'd like to imagine the better, possibly the best, scenario.
When I am 22 years old, James and I decide that we want to travel the world by boat.  We start looking at the used boat market, but we both join the Center for Wooden Boats in Lake Union.  We spend our days off on the Center's boats, getting a feel for boat handling.  I take a class or two, orientation-type things, and get into the idea of learning celestial navigation.  The romance of doing things the old ways infects us both and we become proficient in sailing a wide range of boat types and performing all the many duties of sailing.
Meanwhile, we find a Fuji 35 ketch.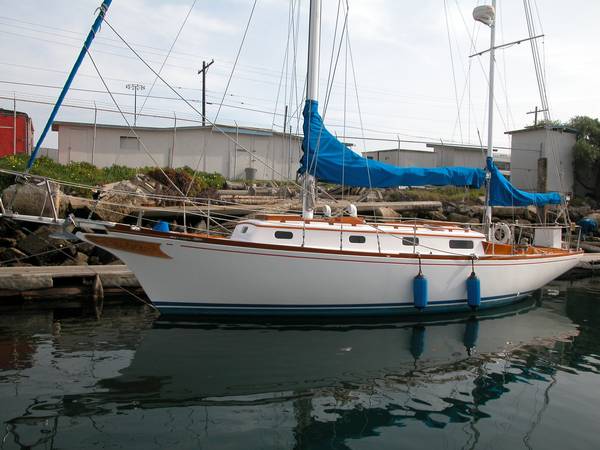 It's not wood, but we fall in love.  It's in impeccable condition, with reams of sailing and maintenance logs.  Though the systems are simple, they feel almost decadent after our time on far more basic boats.  We go on a test sail and make an offer.  With our experience and education, we are able to get a loan and buy the boat.  We move aboard, pay the boat off in a couple of years of hard work, and take off to sail around the world.
Doesn't that sound nice?
*Updated to fix the spelling of Phyllis' name…sorry!